Here's an article I was working on for my site, but it's not quite finished yet:
If you own an older Mastercraft Prostar, you may have had an issue with the fuel gauge not working or getting stuck. Before you run out and spend a boat load of money getting it fixed or replaced, you may consider fixing it yourself. My gauge hadnít worked since I got the boat so I decided to check it out. I found the fix to be actually quite simple.
First I had to slide the gas tank forward. This wasnít as hard as I thought. There are four clips, two at the front bottom into the floor and two at the top back. The tank will slide forward enough to get the sending unit out. I undid the two wires after marking the positive, removed the five screws holding it in place and pulled the unit.
Inside the sending unit, there are two magnets attached to a float. The float had swelled over time and the magnets had come out of their groove and got stuck between the float and the circuit board.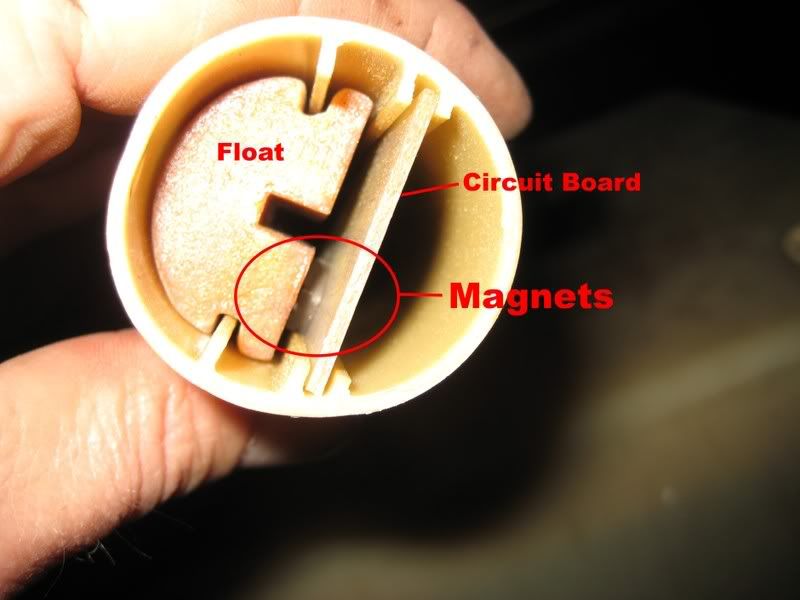 The bottom cap of my sending unit just fell off. Iím sure itís supposed to be glued on, so you may have to carefully cut yours off.
My next step was to free the float. I stuck a length of bailing wire with about a ľĒ hook on the end and pulled the float out. I lightly sanded the edges and inside the guide grooves until the float slid freely up and down the tube. Donít get too aggressive as the float material is pretty light and sands easily. It doesnít take much.
Next was to glue the magnets to the float. I used G2, but Iím sure you could use any epoxy that doesnít break down in gasoline. Since the whole unit is immersed in gas, thatís kind of important.
Then I inserted the float into the tube. I put my magnets toward the bottom of the tube so that the gauge would read empty sooner than later. Just a little precautionary thing. Then I glued the end cap back on. Be sure to slide the float up a bit so you donít accidentally glue the float to the end cap. I resisted the urge to put it back together and let it sit over night.
I dropped the sending unit back into the tank and tested the unit by turning the key on and moving the unit up and down. It seemed to work, so I inserted the 5 screws holding it down, connected the wires and and shoved the tank back into place. Then I had a beer to celebrate while vacuuming the boat.
Saving money is good.